Works longer, uses less energy
Digital Inverter Technology automatically adjusts the compressor speed in response to cooling demand across 5 levels. It uses less energy, minimizes noise, and reduces wear and tears for longer-lasting performance.
Simply make more fridge space
Provides the ultimate in flexible storage. Easily convert the freezer into a fridge to create up to 88 liters more space to store fresh food for different seasons or occasions. But when you need a freezer it's also perfect!
Keeps food safe for 12 hours
The perfect blackout solution, as it keeps food fresher if the power is cut. A Cool Pack in the freezer and a Cool Wall in the fridge keep food items chilled for up to 12 hours during a power cut, so it doesn't spoil.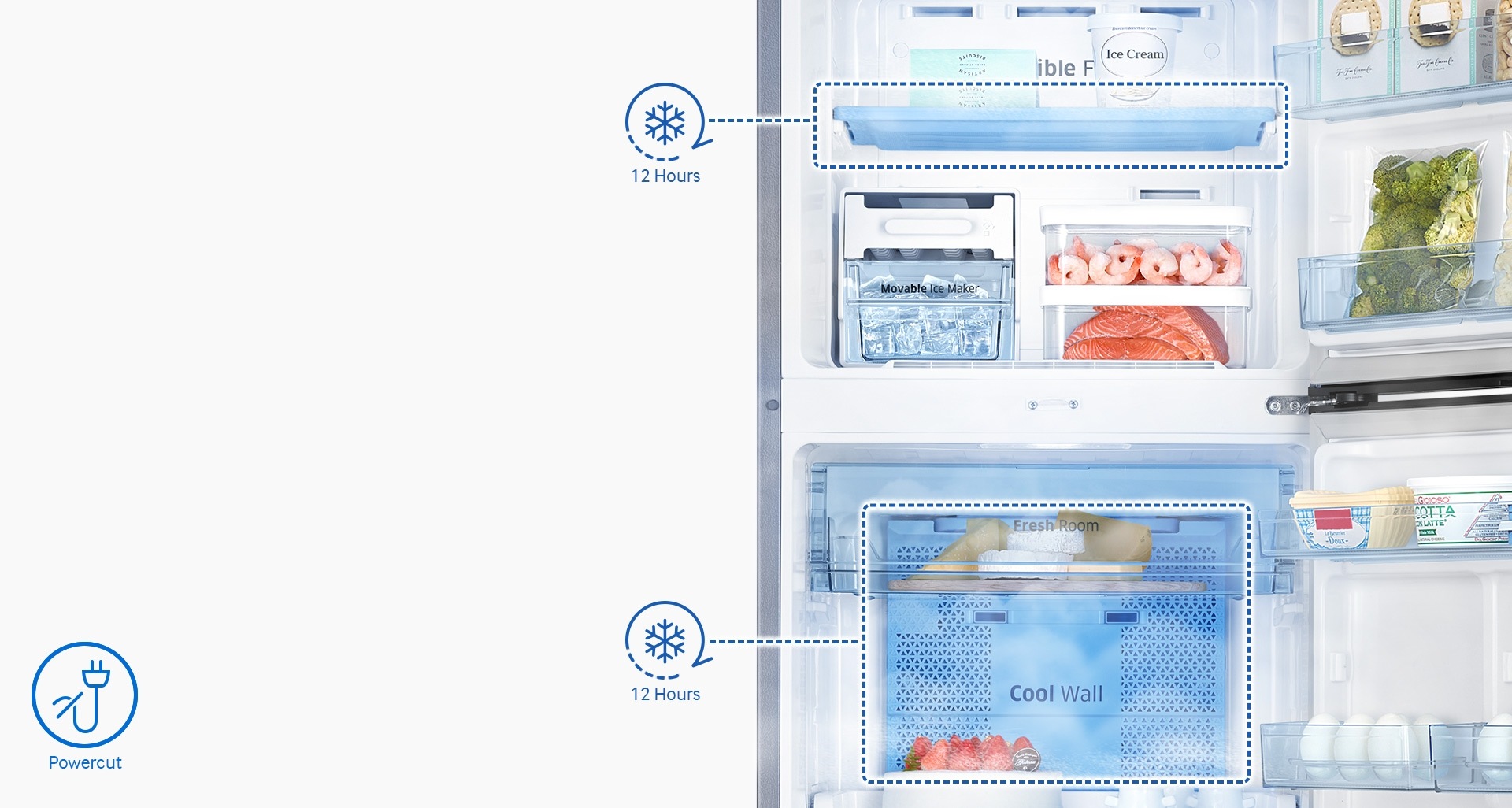 Fast cooling and freezing
Delivers a rapid cooling performance to preserve food's freshness, chill drinks and make more ice. At the touch of a button, Power Cool chills food in the fridge 31% faster* and Power Freeze makes ice 31% faster*.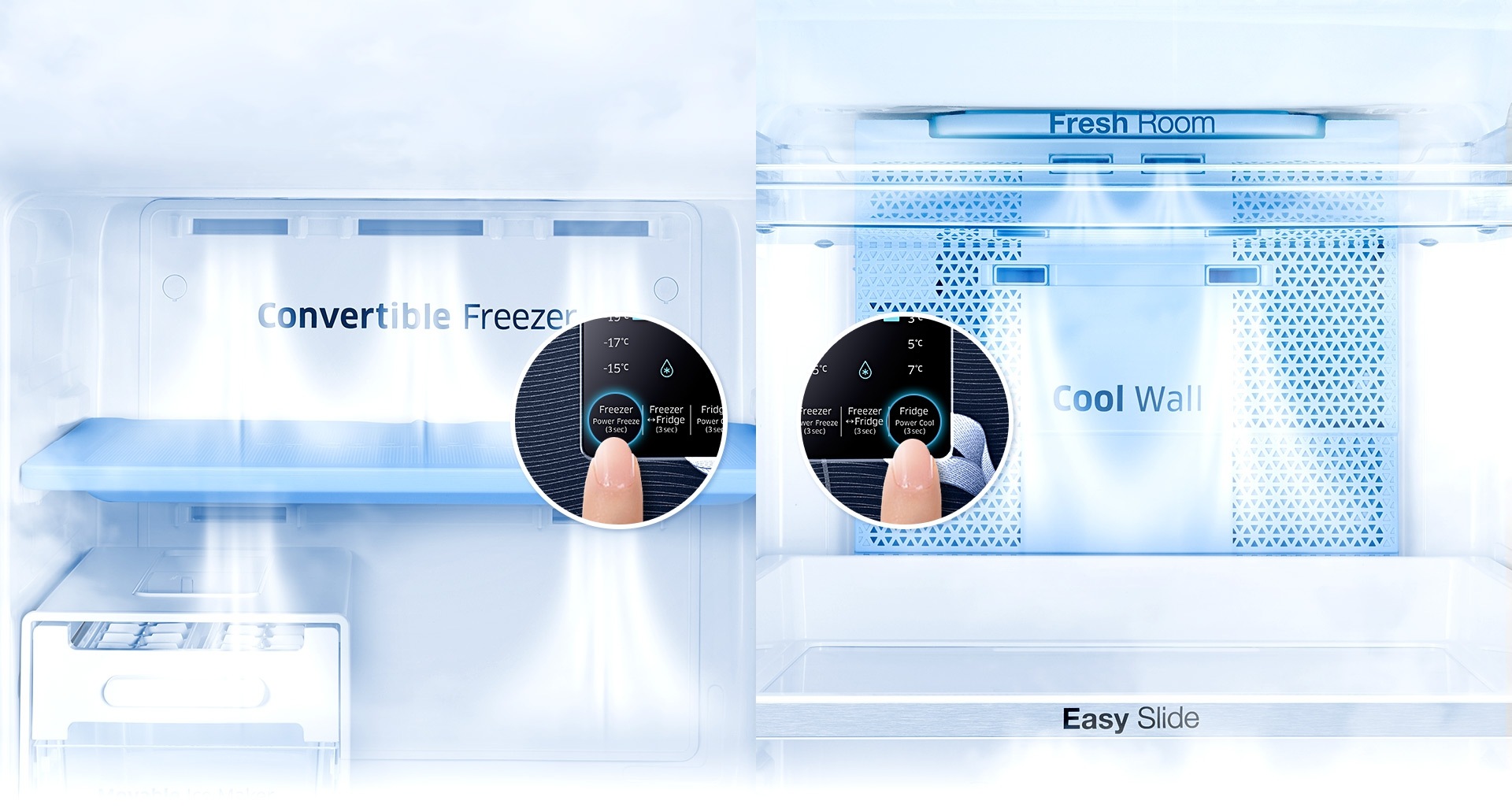 Evenly cools every corner
The All-around Cooling system cools the fridge evenly from corner to corner. Cold air is blown out through multiple outlets at every shelf level, so it maintains a constant temperature and food stays fresher.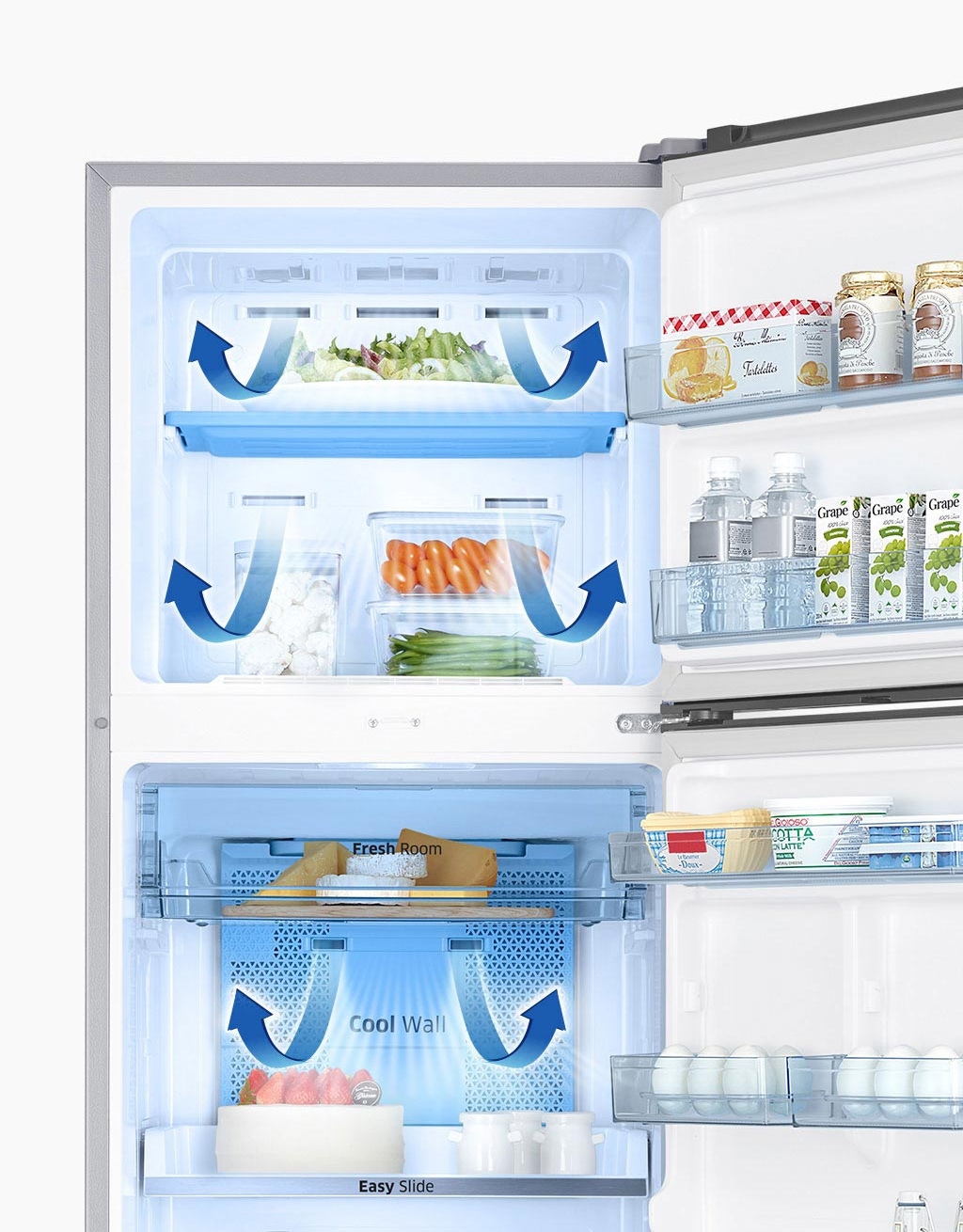 Easy to find and reach food
Reaching into a refrigerator often means navigating an obstacle course of items. The Easy Slide shelf lets you efficiently store, organize and access your food – easily reaching things at the back and in corners.
Energy-saving door alarm
A Door Alarm will alert you if the door is not shut properly or accidentally left open for more than 2 minutes. So it can be closed quickly to prevent the loss of cool air and waste of electricity. And food won't get spoilt!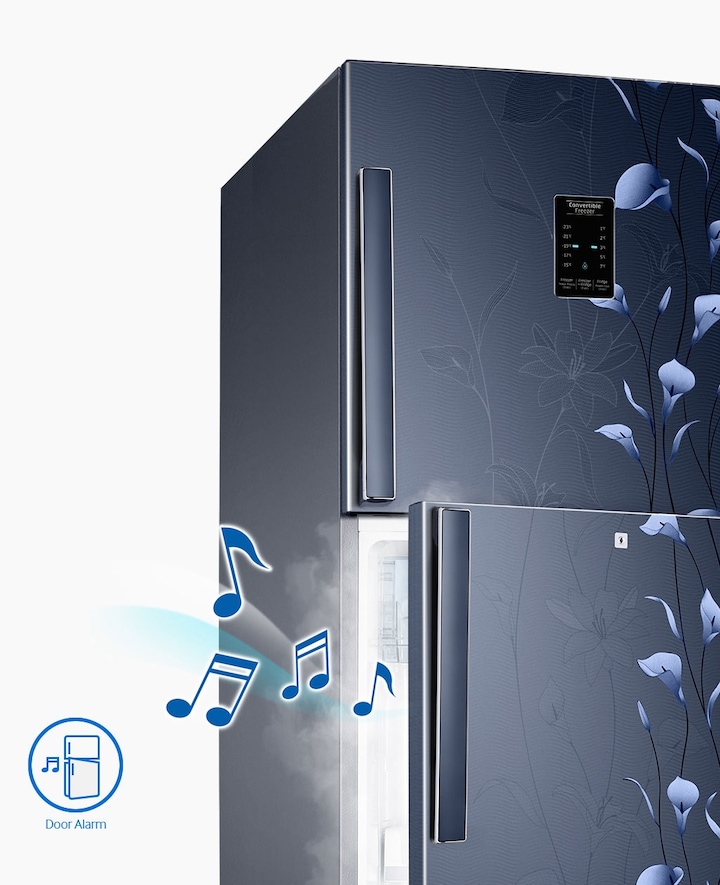 Easily & flexibly store ice
IceMax lets you easily make and store a large amount of ice. Compared to similar models it makes 2.5 times more ice and stores double the amount. It is also movable, so you can utilize your fridge space flexibly.
Keeps perishable food fresher
The MoistFresh Zone keeps perishable fruits and vegetables fresher for longer. This smartly designed drawer provides an optimal environment by continually adjusting the moisture level to maintain the ideal humidity.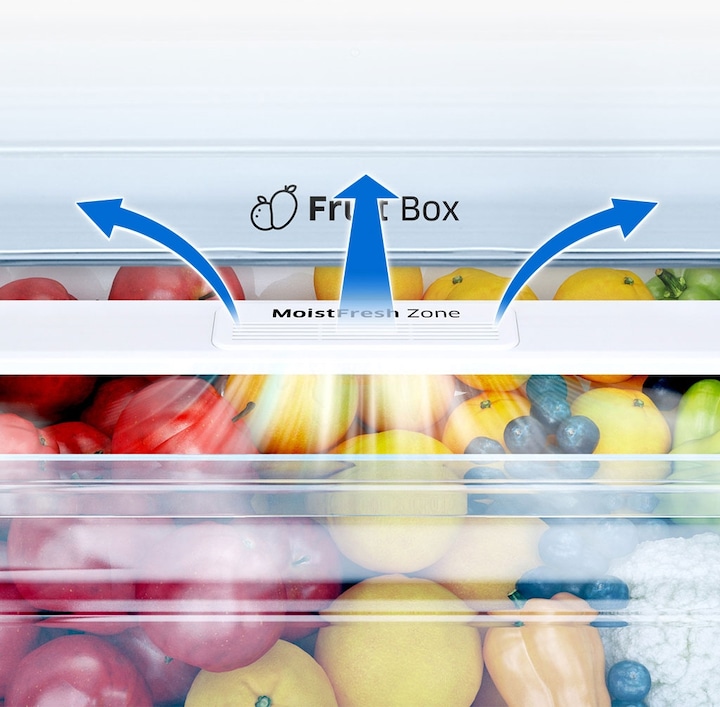 Safely preserve delicate items
Protect small produce in the Crisper Zone. Located above the MoistFresh Zone drawer, this separate box provides convenient storage for easy access to small and easily damaged fruits and vegetables.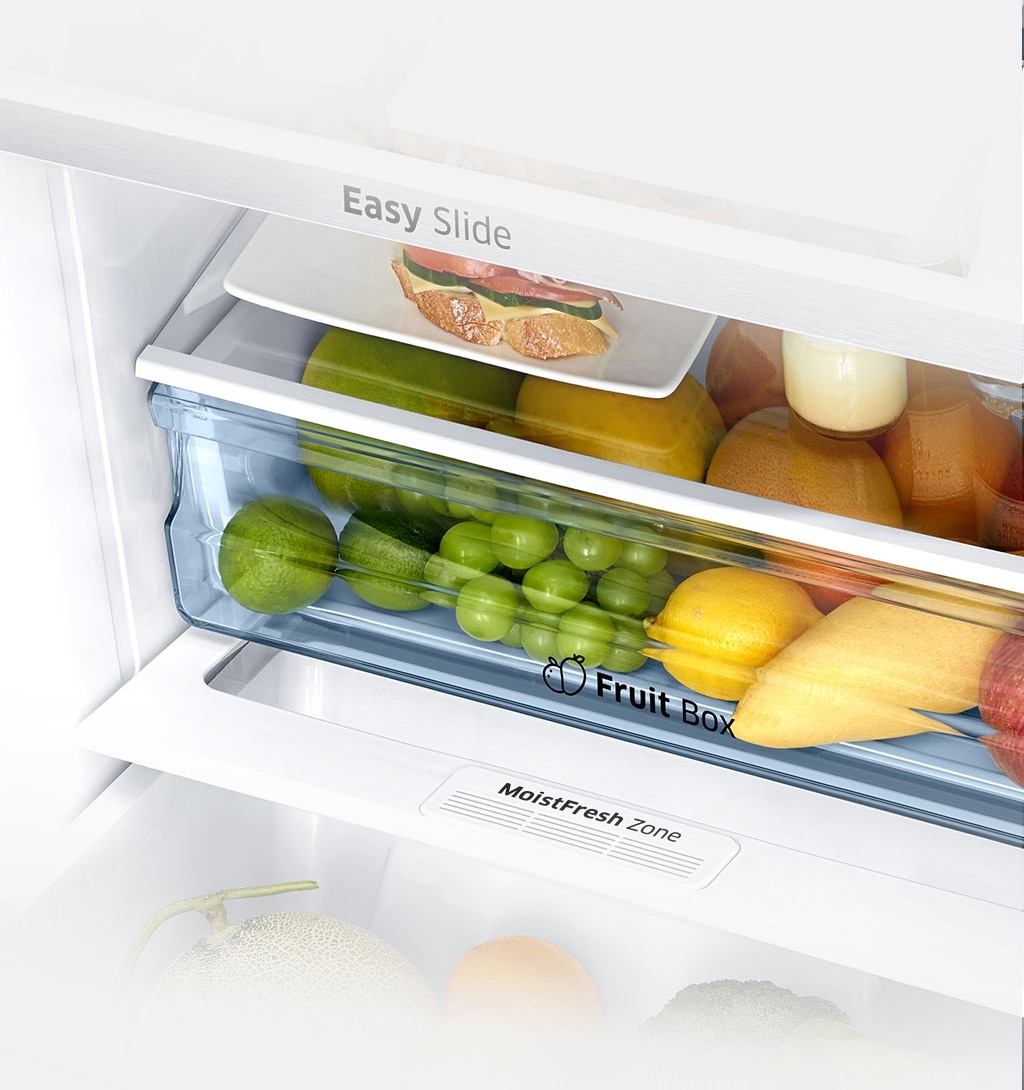 Specifications
Capacity (Liter):  272

Net Weight(kg):  50
Net Dimension (WxHxD) (mm):  555 x 1,635 x 637
Cool Wall:  Yes
No Frost:  Yes
All-Around Cooling;  Yes
Multi-Flow:  Yes
Deodorizer:  Yes
Easy Slide Shelf:  Yes
Material of Shelf:  Tempered Glass
Egg Container (Egg Tray):  Yes
Fresh room:  Yes
Interior LED Light:  LED Light
Big Guards:  Yes
Ice Maker:  Movable
Material of Shelf:  Coolpack
Refrigerant:  R600a
Compressor:  DIT
Door Handle:  Recess
Color:  Elegant Inox (Light DOI Metal)
NB: For every purchase, you make on our store, 2% of what you pay is dedicated to charity, assisting "Out of Schoolkids" in slum locations in Nigeria get back to School. 
Thank goodness, in partnership with Pay With Specta from Sterling Bank, you can BUY NOW AND PAY LATER!!! That means, not having money to buy now is no longer a barrier for you to buy your dream electronics, gadgets, furniture, and decor material. You can split your payment into 3 installments at no additional interest!!! 
What are you waiting for??? Make that purchase NOW.